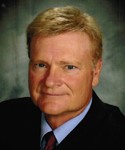 Craig
Hauger
CFP®
Craig Hauger is a CERTIFIED FINANCIAL PLANNER™ professional, counseling individuals, professional practices and small business owners in retirement planning, estate planning and tax planning. His mission statement is simple: "Integrity First, Planning Second, and Product Third".
Craig has been in the financial planning industry for over 28 years. He earned his Business degree from Metropolitan University in Minneapolis, MN followed by his Certified Financial Planner™ certification in 1985. He began his career as a financial consultant with American Express, followed by over 15 years as a senior vice-president with both American Express and Prudential Financial. Although Craig enjoyed his career in management, Mr. Hauger returned to working with retirees and those about to retire focusing on a plan to help preserve capital, organize investments and avoid financial missteps in retirement, tax and estate planning.
As a Certified Financial PlannerTM Professional, Craig can assist his clients in the five areas of financial planning:
Retirement Income Planning
Estate Planning Strategies
Investment Planning
Tax Planning
Insurance Planning

Mr. Hauger and his staff work with individuals throughout the United States. He is a registered representative with Woodbury Financial Services, Inc. He and his wife, Judy, live in Pebblecreek, Goodyear, AZ, have been married 34 years and have three grown daughters.
Email Mr. Hauger at chauger@woodburyfinancial.net.
Or contact Mr. Hauger's executive assistant, Trudy Johnson, at trudy.johnson@woodburyfinancial.net.