Questar Capital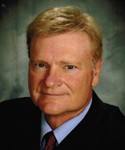 Craig A. Hauger, CFP®, an independent financial advisor with securities offered through Questar Capital Corporation, is a comprehensive financial services firm committed to helping you improve your long-term financial success. Our customized programs are designed to grow, and conserve your wealth by delivering what we believe to be an unprecedented level of personalized service.
We encourage you to explore our site and learn more about the services we provide. Should you have any questions or would like more information on our firm, please feel free to email us at chauger@questarcapital.com or call us at 602-315-3784. We look forward to hearing from you.
Here are some ideas for arranging a phased retirement program, as well as tips for trying a practice run.

Younger baby boomers may be facing a more challenging retirement landscape than older members of the generation, according a recent survey.

Four financial numbers that you should understand (and that could potentially improve your financial situation).

Dollar-cost averaging can be an effective way to accumulate shares without focusing on market movements.